Hello! I'm Janice.
Host and Executive Producer of the Award-Winning Show, Bay Area Vista and CEO of Edwards Unlimited
About Janice
Janice Edwards is an award-winning talk show host and Emmy nominated producer, media coach, published author and an acclaimed contributor to community empowerment through her media work. She is the host and executive producer of "Janice Edwards' Bay Area Vista", which airs on CreaTV Sundays at 6:00 pm. "Bay Area Vista" is produced through her production company Edwards Unlimited. The show features community leaders, celebrities, non-profit organizations and issues of interest. Janice is also host and executive producer of the award-winning CreaTV show that she named, "Signature Silicon Valley". Janice is a co-author of the international best seller Step Into Your Brilliance and a co-author of Quality Angles. She is featured in the book, African Americans of San Jose and Santa Clara County.
A Career Highlight
On February 16, 2019, Janice Edwards was inducted into the Black Legends of Silicon Valley Hall of Fame as the recipient of the Alexander-Green News and Documentary Award. Journalist Henrietta Burroughs presented the award and Helen Grays-Jones surprised Janice with flowers and a card. After receiving her award, Janice co-hosted the rest of the stellar event with Afrikahn Jamal Davys as other Black Legends were inducted, and the African American Community Service Agency received the Black Legend Community Organization Award.
Accolades Include: 
2019 Black Legends of Silicon Valley Alexander-Green News & Documentary Award; 2018, 2015, 2012, and 2011 CreaTiVe Best Series Producer awards; 2013 Trailblazer Award from the National Coalition of 100 Black Women SF; 2013 Hometown Media Award for "Signature Silicon Valley"; 2010 Emmy nomination, 2011 and 2010 nominations for Woman Entrepreneur of the Year, 2010 NAACP W.E. Dubois Award, 2010 Community Service Award from the Alpha Kappa Alpha Sorority of Silicon Valley, the Bronze Award from Junior Achievement of Silicon Valley and Monterey Bay and the American Heart Association's 2009 Western Regional Communications Award. 
For more than eight years, Janice served as Executive Producer & Host of "Bay Area Vista" and Community Relations Director at NBC BAY AREA, where she launched the show "Bay Area Vista" and the news segment "Community Focus". "Bay Area Vista" received the American Women in Radio and Television's (AWRT) 2007 Kudo award for best public affairs show and Janice was voted best host of a Non-news Program by AWRT and received a Kudo. Janice created strategic collaborations and groundbreaking community outreach for KNTV's transition and rebranding from the 120th television market to the 5th largest market.
Janice has worked as an update anchor/writer/producer and reporter/videographer/editor at KRON-TV, a special projects producer and newswriter at KPIX-TV and, for more than a decade, she was host and contributing producer of KBHK-TV's "Black Renaissance" and guest host of "El Amanecer". Her more than 1200 notable interviews span a variety and include Barack Obama, Oprah Winfrey, Rachel Maddow, Dr. Deepak Chopra, Idris Elba, Chris Pine, Kerry Washington, Dr. Cornel West,  Madeleine Albright, Valerie Jarrett, Kevin Costner, Robert Redford, Annette Bening, John Travolta, Jerry Seinfeld, Gloria Steinem, Robin Williams, Anna Faris, Les Brown, Blair Underwood, Iyanla Vanzant, Rob Reiner and the WWF's John Cena. Janice is a published co-author of the international best seller Step Into Your Brilliance and co-author of the book Quality Angles, featuring interviews with Kevin Costner, Robert Townsend, veteran news anchor Evan White, and Lloyd Richards. She is featured in the book African Americans of San Jose and Santa Clara County.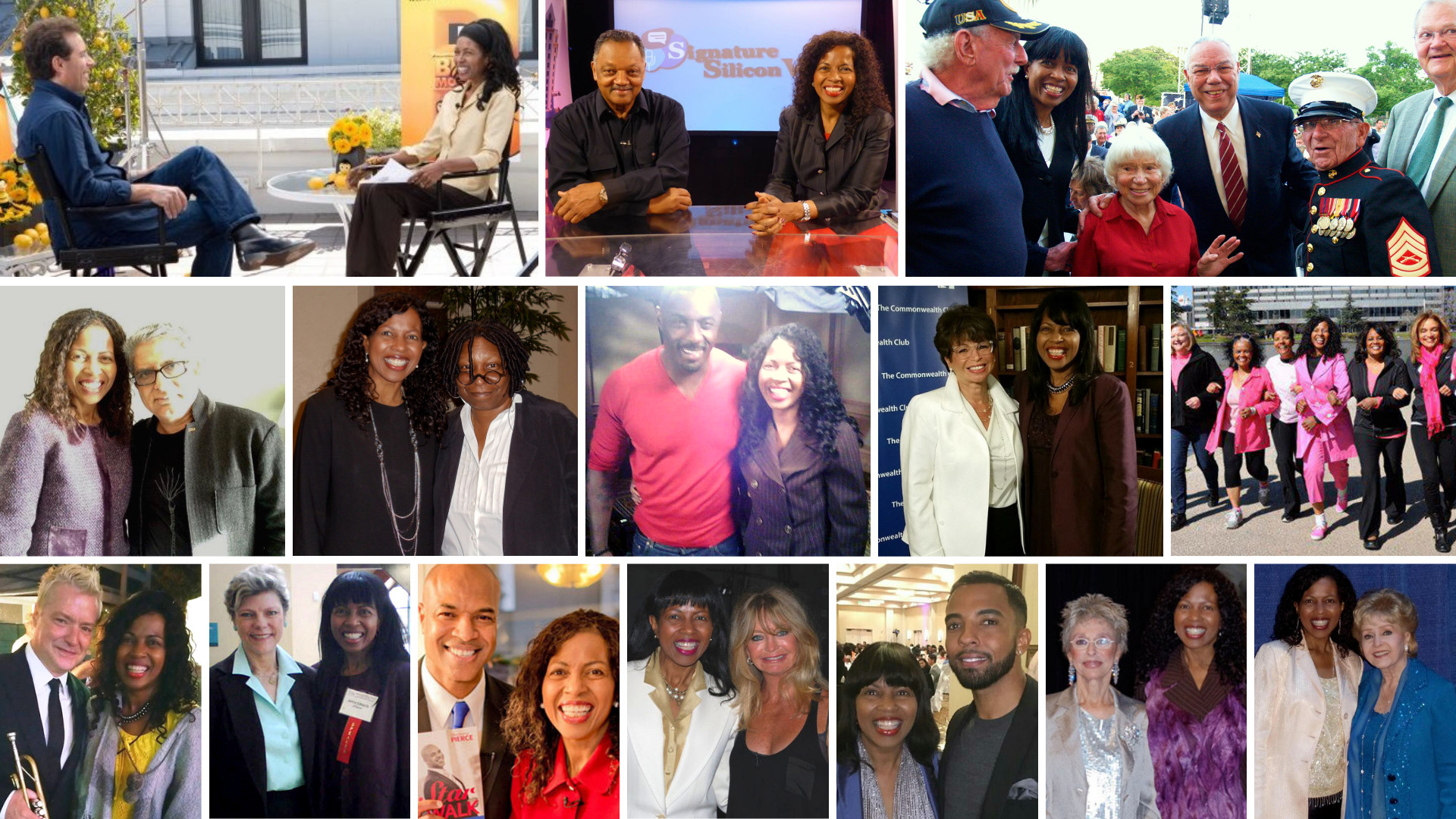 Janice is an in demand MC for many occasions, having MC'ed or spoken at more than 500 national and local events. San Jose Jazz Summer Fest fans have enjoyed her presence on the Main Stage for the last eight years.  Janice's career in broadcasting began in Atlanta, Georgia, as co-host of a teen radio talk show. She continued to work in radio and to write for Spanish and English newspapers as an undergraduate at Harvard University and a graduate student at UC Berkeley School of Journalism. Before graduating cum laude from Harvard, she studied in Spain. 
Her additional awards include the 2008 Woman of Excellence for Advocacy (Woman of the Year Award) by the National Coalition of 100 Black Women, Silicon Valley chapter, the Caring Through Communication award from the American Cancer Society and accolades from

 

NAWBO, the National Association of Women Business Owners –Silicon Valley, Healthy Silicon Valley, and Juvenile Diabetes Research Foundation. 

In 2006, Janice was recognized as one of 101 Women Making A Difference in Our Community. 100 Black Men of Silicon Valley, 100 Black Men of the Bay Area, and the Bay Area Black Media Coalition have also honored Janice for her work. Janice has served as a member of the Board of Governors for the National Academy of Television Arts and Sciences (NATAS) and was a founding board member of Friends of Faith, which provides stipends for women battling breast cancer. The organization was created by the late Faith Fancher, a courageous and inspirational KTVU reporter. Click here to watch the exclusive video. 
 Janice has also served on the boards of the American Heart Association and Junior Achievement of Silicon Valley and Monterey Bay. Each year, Janice serves as an emcee for dozens of events as part of her commitment to community empowerment and service to others.